Our Most Powerful Battery Powered Tools: 18v & 28v
We are very pleased to announce the official release of our new generation of battery tools for PP- and PET-strapping. The new tools are marketed as Model P327 and Model P330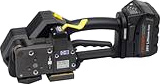 It is our objective to be the number one supplier for both steel- and plastic strapping tools including the portable battery operated plastic strapping tools.
Our success with the P324 and P325 range has been outstanding and all our customers have been very happy with these tools. As usual the development continues and users expect new products and technologies from a leading supplier.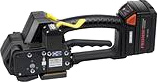 Both tools, the P327 and the P330, are compact, light and with very good ergonomics. They are well balanced and easy to use also for operators with relatively small hands.
We strongly feel that our new generation of battery tools will put us on a favourable position when we will be up against our competition.