PET Strapping
Polyester Strap (PET)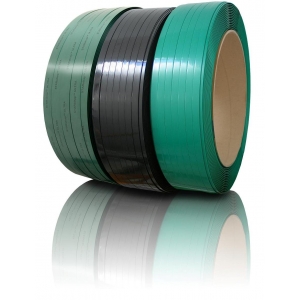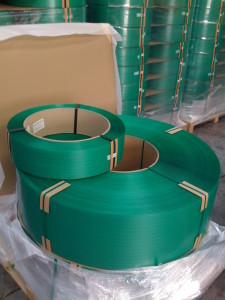 Manufactured by Fromm to strict Quality Assurance standards
Certified tensile strength & breaking strains prevent costly load damage during transit.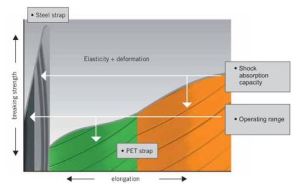 Benefits
High Impact Resistance
Strength and elasticity to withstand shock force.
Elastic Memory
Maintains strap tension in the event of pack settlement.
Loads can be moved safely even after extended periods of storage.
Corrosion Resistant
No damage or contamination of packaged goods.
Workplace Safe Handling
Eliminates risk of handling cuts or lifting heavy coils (steel strap).
Substantial Cost Savings
Reduction of material costs up to 50 % over steel strap.
.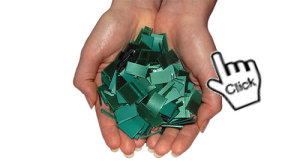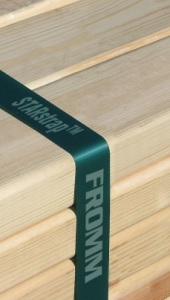 Chop & SAVE $ in waste Printed & Coloured
Chop strap into small waste Available on request

Machine Strap Specifications

Colour Dimensions
Part.No
Green 9 mm x .60 x 3300 m Green

Green 12 mm x .70 x 2000 m

Green 16 mm x .76 x 1100 m

Green 16 mm x 1.00 x 1100 m

Green 19 mm x .80 x 1000 m

Green 19mm x 1.00 x 1000 m

Green 19mm x 1.00 x 2800 m

Green 19 mm x 1.00 x 11000 m

Green 25 mm x 1.00 x 600 m

Green 32 mm x .80 x 2000 m

40.6682

40.7216

40.7243

40.7212

40.6902

40.6903

40.6903.28

40.6903.110

40.6925

40.7232
We Quality check all our High Quality PET straps using the latest QC equipment in house
Tensile testing
Strap Thickness and weights
Welding strengths
………………………………………………………………………………………………………………………………………………………

One of the world's largest PET recyclers.
PET strap is made from recycled bottle material in state-of-the-art extrusion plants to strict QA Standards.